Beats Solo Pro Vinyl Skin Wrap
Installation Instructions:
We want your WraptorSkinz for the Beats headphones to look amazing so please watch the video before you begin.



Tools you will need for installing your Beats Solo Pro skin:

Clean lint free cloth and house hold window cleaner or rubbing alcohol to clean your Beats before you install.

Hair dryer or heat gun to warm the skin to halp it conform the curves of your Beats.


Click HERE to see more skins.

Expected Installation Time: 10 to 15 minutes depending on your experience. TAKE YOUR TIME!
Installation Instructions:
Many of the surfaces of your Beats are curved and the skin may not want to lay flat or may want to pucker on the edges. You will need a hair dryer warm the skin to help it contour to the shape of the headphones and stick properly.

Align the pieces for the sides of the ear cup using the holes in the skin that match the ear cups they are for. Then slowly wrap the skin around the ear cup side as pictured. Don't try to completely stick the piece down right away, just get it stuck into position. This is where you need to apply a small amount of heat with a hair dryer. Once you have warmed the skin you can gently smooth out these raised areas.

Using the same technique as above on the head band and also the faces of the ear cups. Get each skin piece into position then heat with a hair dryer, then slowly press and smooth the skin down onto the headphones.

Also note that the adhesive on the skin has a low tackiness at first and may seem not sticky. It's this way on purpose, it makes installation easier. The adhesive gets stronger with he

sticky

at, pressure and time. After you have the skin on heat again with a hair dryer and firmly press the entire skin onto your beats. After few days the adhesive will bond tighter. Not to worry though, the adhesive is not permanent and you can always peel the skin off at any time.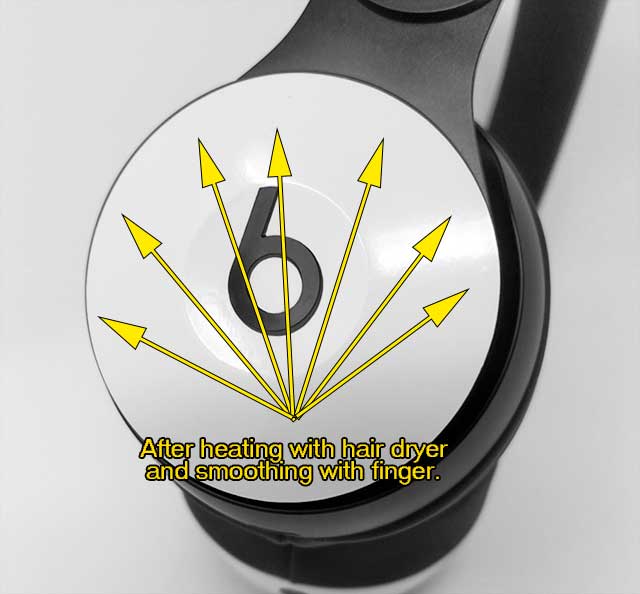 Expected Installation Time: 10 to 30 minutes depending on your experience.
Installation Video Instructions: COMING SOON